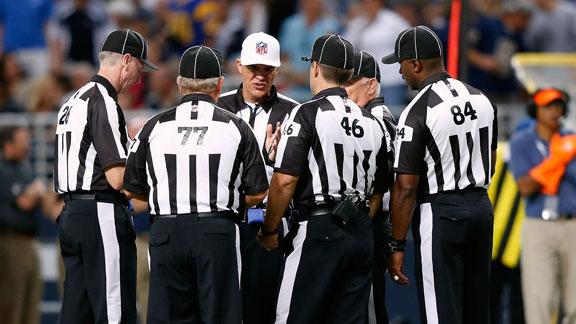 On the morning of September 25, 2012, America was fixated on the aftermath of Monday Night Football's irrational decision handed out in the final moments of the Green Bay/Seattle game by the menial replacement referees. There have been countless articles, tweets, analysis and arguments directed at the NFL on what looks to be one of its darkest days.  I'm sure everyone knows what occurred by now; Seattle threw a Hail Mary into the end zone, the pass was intercepted, but was ruled a touchdown; pandemonium ensued. I was just as shocked as everyone else, but while looking at every media outlet, including non-sports networks, commenting on the egregious call, I couldn't help but wonder where our priorities are as a country. Make no mistake, this was certainly a big deal; there have been complaints about the understudies in zebra stripes since the season started, and after weeks of bad calls and criticism, it all came to a head and the refs finally cost a team a game. Millions of dollars in gambling changed hands, and the game was in the glaring spotlight of MNF, but do we react the same way to deplorable actions as we do to a football game?
I've heard words like tragic, cataclysmic, disastrous and fatal thrown around to describe the now infamous call. When I arrived at work today, everyone, fans and non-fans alike, were talking about the game like we had just been bombed, and I was just as animated about it In my own responses. But when I thought about it, could I really call it tragic? There have been plenty of things going around to be alarmed about lately; voter suppression, the Chicago's teachers' strike and its increasing record breaking murder rate, and a rash of police murders on black youth. Sure, people are upset about it, but we rarely take national stands on situations that truly need change. Where is the outrage? What about the disgust?
I'm not here to preach, and am definitely the last person to talk; I was downright depressed during the NBA lockout and my fiancé refuses to watch a Laker game with me due to my sporadic and fluctuating mood synonymous with their win/loss record, but this situation had me pondering about our priorities in life, about the importance of what's going on around the globe. There was even a comment from president Obama, but I haven't heard too much from him regarding the astronomical homicide rate in his own hometown. I guess what I'm trying to say is, that it would be nice for all of us to focus our unyielding passion for sports elsewhere every once in a while. With that being said, the NFL really does need to bring the real refs back, then maybe we can look to some more important matters.